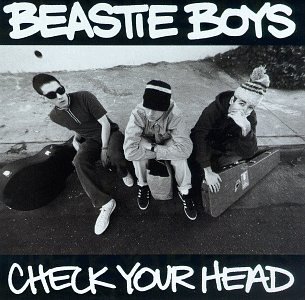 Two days ago the world received the news that one of the founding members of the Beastie Boys, Adam Yauch – better known as MCA – died after a long battle with cancer. I'll not lie, it's been years since I really followed the Boys' music, however it was very important to me in my teens/early twenties and as musicians I will always respect them. Paul's Boutique and Check Your Head will forever be modern masterpieces in my book, even though as I grew older (and so did the boys) I lost the ability to identify with aging men who gesticulate wildly while they throw out rhymes. Well, that's not really fair to them because the fact is I just kinda lost the ability to identify with most rap, period. Nonetheless, last year about this time I went through a big revival with the BBoys for a few weeks and during that time I gave careful consideration to their 1992 masterpiece Check Your Head and came to the realization that if I was put on the spot to pick the album that I think best encapsulates the "alternative boom" of 90's popular music it would probably be Check Your Head, an album that transcends their rap/hip-hop roots and really stretches the ideas of musicianship, creative process and good ol' fashioned FUN (K).
My heart goes out to Mr. Yauch's family, Adam Horowitz, Michael Diamond and the millions of people he affected with his music, and later his film production company Oscilloscope Laboratories. Below is a re-posting of the article I wrote about Check Your Head's place in musical history for Chud.com. I've tidied it up and expanded the piece, as MCA's death has put me back in a state of contemplating his legendary band's career.
This one is called Rectify. Rest in Peace MCA, you did good in this world.
………………………….
In the grand scheme of things it was not so terribly long ago when I found my interest in The Beastie Boys and the music they made that once served a very important purpose in my life rejuvenated after watching the short film Fight For Your Rights (Revisited) produced by Adam Yauch's Oscilloscope Laboratories and starring a veritable who's who of the entertainment community. It'd been years since any new output by the BBoys had found its way onto my radar. Ill Communication came out in 1994, just about the time I graduated high school, and although I look back upon that album favorably, I can see now that I had already recognized that the progression of their material was slowly going to lose me. As I grew the Boys did too and the more they did the less I identified with them. That's not to say that I feel/felt it was a bad thing that they stopped partying and scheming and instead went on to contemplate and educate their audience about weighty world topics such as the the Free Tibet Movement, better treatment of women and Peace between the nations. No, all of that was wonderful, and they did help expose me to ideas I otherwise didn't know about at the time. However, as much of my time between the ages of seventeen and twenty-two were spent drinking, drugging and just generally causing trouble, these benevolent ideas were not what I went to the Boys for. No, I went when I was partying and wanted to hear Paul's Boutique and all of its wonderful tales of debauchery as a backdrop to my own. But as time moved on yet again I found myself less inclined to put on the Boys, and when I did, it was usually Check Your Head.
I've always loved CYH – in fact, after being introduced to The B Boys via Fight for Your Right on Chicago's B96 radio (*gag*) around the time I was, what, ten? (Jesus…) I missed Paul's entirely and didn't hear from the band again until I was about a sophomore in High School and a friend purchased CYH around the time it came out in the spring of 1992. Of course due to this the album will always hold a special place in my heart because we ground it into our senses over the course of a long, hot Chicago summer full of, for soon-to-be Juniors in high school, a lot of partying and teenage debauchery. Later, when I found Paul's (and wondered just how the hell I'd missed it to begin with, only to find out later that Capitol had, at the time of its release in 1989, pretty much completely failed to promote the record) its strong hold on me had a lot to do with partying too. However, this also shed some light on CYH, and how the Boys had… evolved. Overall that evolution has been a good thing for the Boys me thinks, but it has also, on occasion, caused some of us to distance ourselves from those who once so cheerfully contributed to our dirty thoughts and dirty minds…
And so in my mid-t-late twenties I grew to consider Check Your Head a great, important album, when I had time to consider it at all. But I don't think it was until another person's comment spurred me to really consume the thing in a variety of different critical ways after a couple of years distance from it that I realized just how important an album it really is. I have now come to the conclusion that Check Your Head may just be the zenith of the "alternative" zeitgeist of the 1990's*. The record has everything – the 90's were big on interlacing, evolving and muddying genres and CYH does all of that, but with supremely cohesive maneuvering and songwriting that doesn't just anthologically jump from one type of song to the next, but in a way that every song is a fluid amalgamation of different genre textures. The aforementioned follow up to CYH, Ill Communication, pales in comparison to me because it 'reads' far more as though the boys are saying, "this is a punk song, this is a hip hop song, this is an instrumental funk jam" etc. Check Your Head, while containing elements of all of those genres, never solidifies into one particular style for even a mere moment.
Take for example the song 'Stand Together' – it has a tightly woven and uniquely executed blending of electro/hip hop/punk musical elements made all the more effective by vocals that run in and out of being rap-delivery/punk rock. This makes sense when you look at where the B Boys came from, starting out as a pre-teen punk band with Luscious Jackson's eventual drummer Kate Schellenbach, morphing into the Party-time Teenage metal-rapsters on their Rick Rubin-helmed debut License to Ill, and then working up to actually playing their instruments  and erring toward the down home influences of their adopted funk ancestry more than those stripped down punk roots. And I know a lot of groups go through phases of influence, but most of them don't ever put down a musical statement as original and powerful as Check Your Head.
When you consider that our cultural regard for the 90's now, twenty years later is one that often pinions on Nirvana, Smashing Pumpkins and (yuck) green day as powerhouses that led a virtual army of groups born from the underground influences of Post Punk, Brit Pop and Heavy Metal as they congealed in a major-label cash-grab petri dish, you wouldn't necessarily think that a group like The Beastie Boys had actually transcended and elevated the art of rap to the point that it became one with those other styles. That is especially hard to remember now that rap in general has become such a stale and limited land of dross, new ideas seemingly the one outlaw concept so vehemently denied within its popular circles. And yet make no mistake, Check Your Head – while incorporating rap – did so in a way that de-emphasized that word as the name of a genre and re-emphasized it as a skill-set, something to be mixed in the bag along with your drum kit and awesome fuzz-bassline. Much like the horrific cadre of talentless bands that arouse at the end of that decade and sold records based on the idea that rap and rock were two totally separate things and, "gee, aren't we awesome for figuring out how to put them together?" and their tendency to count a DJ among their members seemingly so they could haul him out on the bridge of every song just to make the cliched 'wika-wiki-wack' with their turntables, the Beaties did the exact opposite, learning to see that all of these musical ideas come from the same palette to begin with, so when you put them together and you do so with the purest of motives and the right perspective, you create a legend.
………………
* The term alternative can only, in my mind, be legitimately used for music circling the underground until about the time Nirvana's In Utero came out – nothing against Kurt, Krist and Dave, it wasn't their fault the corporates latched onto them and then subsequently sucked the life out of a great rock underground that, touting groups and artists like Frank Black, The Breeders, The Flaming Lips, Ween and a host of others, truly was an alternative to motley suck, bell biv devoe and everything else mainstream.
Shawn lives in Los Angeles where he co-hosts Drinking w/ Comics, writes screenplays and fiction and has been known to drink quite a bit of beer. Good beer.